CycleSafe offers a wide range of cycle training in Kent and East Sussex to help get more people cycling, more often, more safely
It's widely acknowledged that cycling is a great way to achieve good health and fitness.
It's also one of the easiest ways to exercise - you can ride a bicycle almost anywhere, at any time of the year, and without spending a fortune. And what's more is that bikes don't pollute the air with exhaust fumes, the only energy they use is pedal power! Cycling's a perfect activity for the family to do together - and research has found that kids are influenced by their parents exercise choices.
Whether you're a complete beginner, would like to boost your confidence or want to develop more advanced skills, it's easy to get some training with CycleSafe that fits your needs. All you need is a suitably sized bike, some comfy, practical clothes and some enthusiasm to get going!
Bikeability
This is the new cycle training scheme for the 21st century which has been introduced all over the country to give children and adults the skills and confidence to ride their bikes safely on todays roads. The scheme was developed and approved by Central Government and leading cycling organisations including Cycling England, the Cyclists' Touring Club and Sustrans and offers a uniformed approach to cycle training.
Our professional instructors use the Bikeability scheme to progressively train people to cycle step by step, from complete beginners to an advanced level.
These are the three main levels of training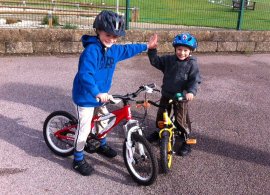 Level 1A is aimed at people who have never ridden a bike and gets them riding at a basic level off road.
We are specialists in teaching beginners. Our unique step by step programme develops confidence and competence while our cycle games make learning fun for children.
Level 1B develops cycle control skills and is taught off road. People will be able to cycle safely on 'off road' paths after this level. It also develops all the control skills needed for the road. Anyone wanting to learn to ride on the road needs to satisfactorily complete this level first.
Level 2 teaches trainees how to ride on road safely and assertively. Trainees will be able to cycle on quiet roads after completing this training level.
Level 3 uses skills learnt in Levels 1B and 2 and teaches trainees to cycle on and through busy multi-lane roads and junctions. Cyclists will be able to cycle confidently on most roads after this level.
Individual training
We offer individual lessons and also work with schools and organisations to run group courses for children and adults. If you're a parent looking for a different idea for a birthday party, why not contact us to arrange a Fun on a Bike Party at your local school.
Where we teach
For level 1a and b courses we currently have teaching sites in Halstead, Tonbridge, Tunbridge Wells, Robertsbridge, and Hastings.
For levels 2 and 3 road training, we use areas in Tonbridge, Tunbridge Wells, Robertsbridge, Hastings and Bexhill, which have been risk assessed for their suitability. Or if you live within a 20 mile radius of Robertsbridge in East Sussex and prefer to have training on the roads you are likely to use, this can be arranged for a price supplement.

Take a look at our Facebook page to view some of our training activity last year.