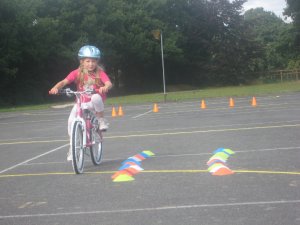 "I have been delighted with the Cycle Safe lessons. My 7 year old daughter was very nervous and worried about the thought of cycling let alone actually doing it!
But with Denise's patient teaching and a robust process which took her step by step towards 2 wheels she is now off and cycling independently with confidence.
We shared 2 x 1 hour lessons at the end of which my daughter was beginning to cycle unaided. One further 1 x 1 lesson concentrated on consolidating her technique and starting to master steering and control. She has come a long way in a few days!"
Paula Leach 17 Aug 2013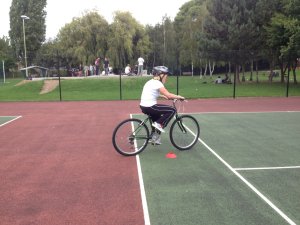 "I never learnt to ride a bike as a child and so when my children were learning to ride bikes without stabilisers, I decided - at the ripe old age of 42 - to take the plunge and learn to ride as well.
After a couple of unsuccessful attempts to learn on our own (which nearly put me off completely), a school mum recommended (or rather raved) about Denise Lomas at Cycle Safe.
At our first lesson I almost chickened out - I was petrified of falling over and hurting myself, making a fool out of myself in front of the children, or - even worse - holding them back through my fear/inability. Denise immediately put us all at ease.
Her techniques for learning to balance on the bike were easy to do and inspired confidence. I was amazed to find that by the end of the first hour's lesson I could actually peddle!
At the second lesson, I really mastered the technique and Denise made all the exercises fun. My children were also riding their bikes and we really enjoyed the session.
There is no way I would have been able to ride a bike without these lessons and I would have probably stopped trying. Now the kids and I are enjoying cycling together. I can't believe it only took two hours.
I really can't recommend the lessons enough.
Jane Maynard 22 September 2013
I just wanted to say a HUGE thank you, for your lesson with Wills. His confidence has leaped and he is now really enjoying going out on his bike. He is much more willing to try different things now too. We've also been weaving in and out of cones across the field!!
I'll definitely be recommending you and we'll book some more lessons up with you, next holidays.
Stephanie Vidler May 2014
I just wanted to say thank you for all your help with Charlotte. I find it hard to believe that four weeks ago she could not pedal and today she cycled 5 miles on the Forest Way and loved it! A happy summer of cycling awaits!
Sally Antram 1st June 2014
I am confident saying that after two years of trying, just one hour with a Cyclesafe instructor gave Heidi the confidence and she needed to be able to cycle without stabilizers. She has been out every day since her lesson and we can't get her off her bike now! Thank you so much!
Tanya Saunders 15th June 2014
Following on from Becky's cycling lesson on Wednesday, I just wanted to thank you profusely again! I cannot believe, after the years of tears and tantrums, that you got Becky cycling so quickly, and seemingly effortlessly after just one lesson! You quickly grasped the best way to move her forward and nurtured her confidence to achieve the job! I have already recommended you to a friend!
Amanda Armstrong 15 August 2014
It was well worth it and I will be spreading the word to others who are struggling to get their child moving! Nicky was a great teacher. Ben really enjoyed the lesson and felt very at ease with her which obviously gave him a lot of confidence.
Alison Pembro 21st September 2014
Nicky was excellent and the lesson was clearly very successful!
He's going to practice for a few weeks and then get back in touch about a follow-up.
Joanna Hogan 21st September 2014