Just wanted to say you are quite possibly a miracle worker! I can't believe how far you have got Sam in just a couple of days. Thank you so much. He has absolutely loved it too and has gone from being really nervous about riding a bike to talking about it with great enthusiasm. Cannot thank you enough
Jane 7th April 2021
Thanks so much for helping Elliott yesterday, I've never seen him so enthusiastic about riding his bike! It'll be really good to get him up and running independently for the summer.
Cath Newland 23rd April 2018
Harry loved his lesson on Saturday. His riding has come on so much, I can ride with him now.
Sam Smith 24 April 2018
We wanted to say a big thank you for this morning's lesson.
Luca really enjoyed it and now wants to go riding tomorrow!
Caroline and Jason 14th October 2017
Thank you so much for taking Isla on her little biking journey today, she thoroughly enjoyed herself and has just been telling me all about it before bed!
Apparently I have to take her to the tennis court to practice this week!
Anita Foskett 11 March 2017
Big thanks too for the lessons, we are amazed at the results because Scarlett lacked confidence on her bike, even with stabilisers. It gave them all the start they needed and confidence. Thank you
Rebecca Thorpe 6th September 2016
Since having his lesson with you last Friday, Harry has been growing in confidence on his bike! He has been asking to ride it, and he even rode it from our house on Mill Rise nearly all the way to Glottenham nursing home at the weekend!
Thank you so much for teaching him. I still can't quite believe he has picked it up so quickly. I think he probably can do without a follow up lesson, but thank you for letting me know.
Next stop, Tour de France!
Purdy 21 February 2016
Just a quick note to say thank you so much for today. Jack loved the session and it has given him the confidence boost he needed. He was only crying at the end as he hurt his parts from braking too quickly!
He looks forward to the next session. Fingers crossed you can squeeze him in soon.
Caroline 18 February 2016
Just to let you know that Tilly is amazing on her bike now, I don't think she had one day in the half term when she wasn't on it, rain, wind, didn't stop her and she was pretty much out all day.
We are lucky to have quite a bit of concrete/tarmac paths and hills for her to whizz around and she certainly took advantage of that. Hopefully will be back out there this weekend.
Thank you for the amazing course! I am sure she will be back at some point for an advanced one!
Catherine Verde 10th February 2016
Nicky was excellent and the lesson was clearly very successful!
He's going to practice for a few weeks and then get back in touch about a follow-up.
Joanna Hogan 21st September 2014
It was well worth it and I will be spreading the word to others who are struggling to get their child moving! Nicky was a great teacher. Ben really enjoyed the lesson and felt very at ease with her which obviously gave him a lot of confidence.
Alison Pembro 21st September 2014
Following on from Becky's cycling lesson on Wednesday, I just wanted to thank you profusely again! I cannot believe, after the years of tears and tantrums, that you got Becky cycling so quickly, and seemingly effortlessly after just one lesson! You quickly grasped the best way to move her forward and nurtured her confidence to achieve the job! I have already recommended you to a friend!
Amanda Armstrong 15 August 2014
I am confident saying that after two years of trying, just one hour with a Cyclesafe instructor gave Heidi the confidence and she needed to be able to cycle without stabilizers. She has been out every day since her lesson and we can't get her off her bike now! Thank you so much!
Tanya Saunders 15th June 2014
I just wanted to say thank you for all your help with Charlotte. I find it hard to believe that four weeks ago she could not pedal and today she cycled 5 miles on the Forest Way and loved it! A happy summer of cycling awaits!
Sally Antram 1st June 2014
I just wanted to say a HUGE thank you, for your lesson with Wills. His confidence has leaped and he is now really enjoying going out on his bike. He is much more willing to try different things now too. We've also been weaving in and out of cones across the field!!
I'll definitely be recommending you and we'll book some more lessons up with you, next holidays.
Stephanie Vidler May 2014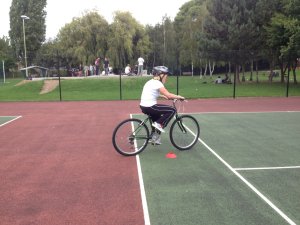 "I never learnt to ride a bike as a child and so when my children were learning to ride bikes without stabilisers, I decided - at the ripe old age of 42 - to take the plunge and learn to ride as well.
After a couple of unsuccessful attempts to learn on our own (which nearly put me off completely), a school mum recommended (or rather raved) about Denise Lomas at Cycle Safe.
At our first lesson I almost chickened out - I was petrified of falling over and hurting myself, making a fool out of myself in front of the children, or - even worse - holding them back through my fear/inability. Denise immediately put us all at ease.
Her techniques for learning to balance on the bike were easy to do and inspired confidence. I was amazed to find that by the end of the first hour's lesson I could actually peddle!
At the second lesson, I really mastered the technique and Denise made all the exercises fun. My children were also riding their bikes and we really enjoyed the session.
There is no way I would have been able to ride a bike without these lessons and I would have probably stopped trying. Now the kids and I are enjoying cycling together. I can't believe it only took two hours.
I really can't recommend the lessons enough.
Jane Maynard 22 September 2013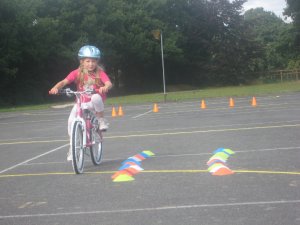 "I have been delighted with the Cycle Safe lessons. My 7 year old daughter was very nervous and worried about the thought of cycling let alone actually doing it!
But with Denise's patient teaching and a robust process which took her step by step towards 2 wheels she is now off and cycling independently with confidence.
We shared 2 x 1 hour lessons at the end of which my daughter was beginning to cycle unaided. One further 1 x 1 lesson concentrated on consolidating her technique and starting to master steering and control. She has come a long way in a few days!"
Paula Leach 17 Aug 2013