Level 2 training (onto the road)
For children 10 years plus and adults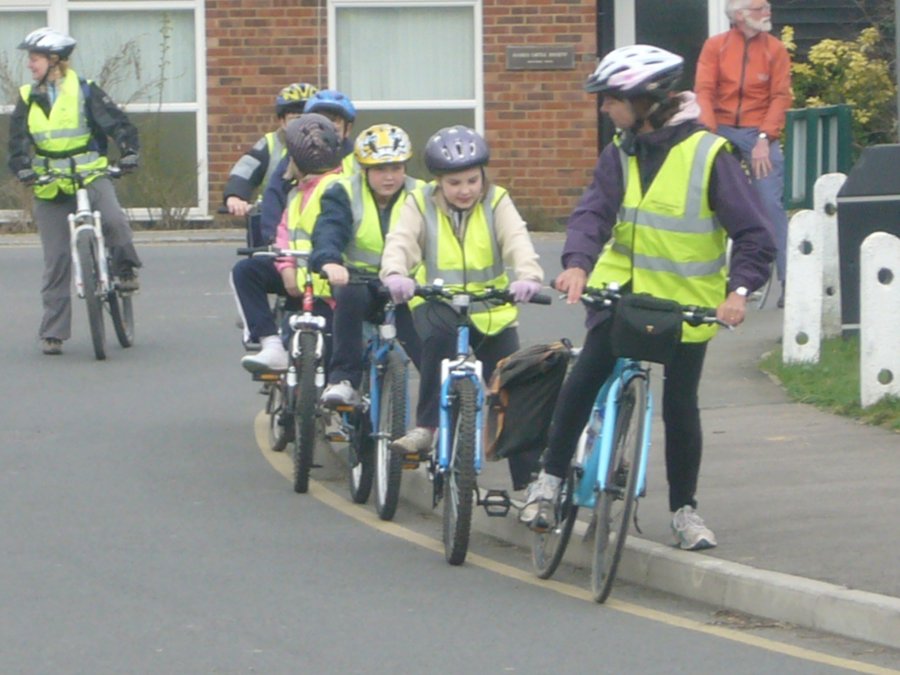 Level 2 Bikeability 2 training gives the trainee a real cycling experience and develops the skills and confidence to manage light to medium traffic situations on short journeys. Book a private course, get a group together or keep an eye on the website for any courses coming up.
Trainees receive a certificate on completion of the course and a level 2 badge if skills are performed at a competent level.
Trainees need to demonstrate they are competent with the Level 1 skills before continuing on to Level 2. This will normally be at a separate session at one of our Level 1 training sites.
If you have a child of at least 10 years who has already achieved Bikeability 1 with another training establishment the competencies will still need to be reviewed at this session.
Training costs for private groups
| No. of people | Level 1 assessment | Level 2 training | Group cost |
| --- | --- | --- | --- |
| 1-2 | 1 hour | 3.5 hours * | £120 |
Please note that these are approximate course timings. Sometimes a further session may be needed to complete the course or to successfully achieve the skills.
For larger private group please enquire directly
Level 2 skills
All level 1 skills
Start an on-road journey safely
Finish an on-road journey safely
Beware of potential hazards
Understand how and when to signal intentions to other road users
Understand where to ride on roads being used
Pass parked or slower moving vehicles
Pass side roads
Turn left into a minor road
Make a U-turn
Turn left into a major road
Turn right into a minor road
Turn right from a major to minor road
Demonstrate a basic understanding of the Highway Code
Demonstrate decision-making and understanding of safe riding strategy
Extra skills where infrastructure available
Decide where cycle infrastructure can help a journey and demonstrate correct use
Go straight on from minor road to minor road at a crossroads
Use mini-roundabouts and single lane roundabouts
Booking Conditions
Please read the Booking Conditions for Level 2 & 3 courses
Courses coming up
Please see our main page for all upcoming courses
or contact CycleSafe on 07508262768 training@cyclesafesoutheast.co.uk